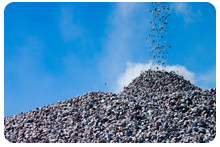 Our products include:
GRANULAR 'A'
GRANULAR 'B'
TOP SOIL - red, black, or a mix of both.
CRUSHER FINE
SEPTIC SAND
SAND FILL
PIT RUN
GABIAN STONE
RIVER ROCK
CLEAR STONE - various sizes and types suitable for many purposes such as septic fields, weeping tile, driveways...)
WASHED/UNWASHED WINTER CONTROL SAND WITH SALT
Various other materials as required.
IF WE DON'T HAVE IT, WE CAN GET IT!
Thank you for visiting Biloski Brothers Sand And Gravel Ltd, your source for sand & gravel, topsoil, aggregate materials, excavation and heavy equipment services in Thunder Bay and the surrounding areas.